Everything You Need to Know About the OHFA Down Payment Assistance Program
Maybe you're a smart spender that heeds this time-tested piece of advice:
"Don't buy anything you can't pay for in cash."
And, for the most part, this kind of wisdom works well when you're trying to build prudent financial habits — paying living expenses, saving a portion of your income, and maybe even purchasing a car all without racking up debt. 
But then it comes time to buy your first home and suddenly you're hit with a major roadblock:
Following this advice is exactly what got you into trouble. 
In 2020, homes in the United States come with price tags that "cash" is simply not going to cover. The average 3-bedroom, 2-bathroom home in Duncan, for example, comes to about $130,000. 
And that means you need a sizable down payment.
Does anyone have that amount sitting around in cash these days?
Secondly, the problem with "not buying anything you can't pay for in cash" is the fact that you will fail to build credit. 
And without a credit history, many mortgage lenders simply won't consider you a valid applicant.  
There are so many stories of families hitting a financial obstacle when it comes to owning a dream home. Many just stop and try to borrow the money from family members or put off the purchase. 
But a few tenacious potential homeowners refuse to give up on their quest. And, after a bit of digging, they inevitably come across a handy down payment assistance program in Oklahoma. 
Could this be you?
What National First-Time Home Buyer Programs Are Available?
Besides home loans, there are plenty of other first-time home buyer programs available to help eligible homebuyers pave a way to their dream homes. Right now, there are 2,392 such programs available across the country.
Nearly 70% of these programs help with closing costs and 9% are geared towards first mortgages.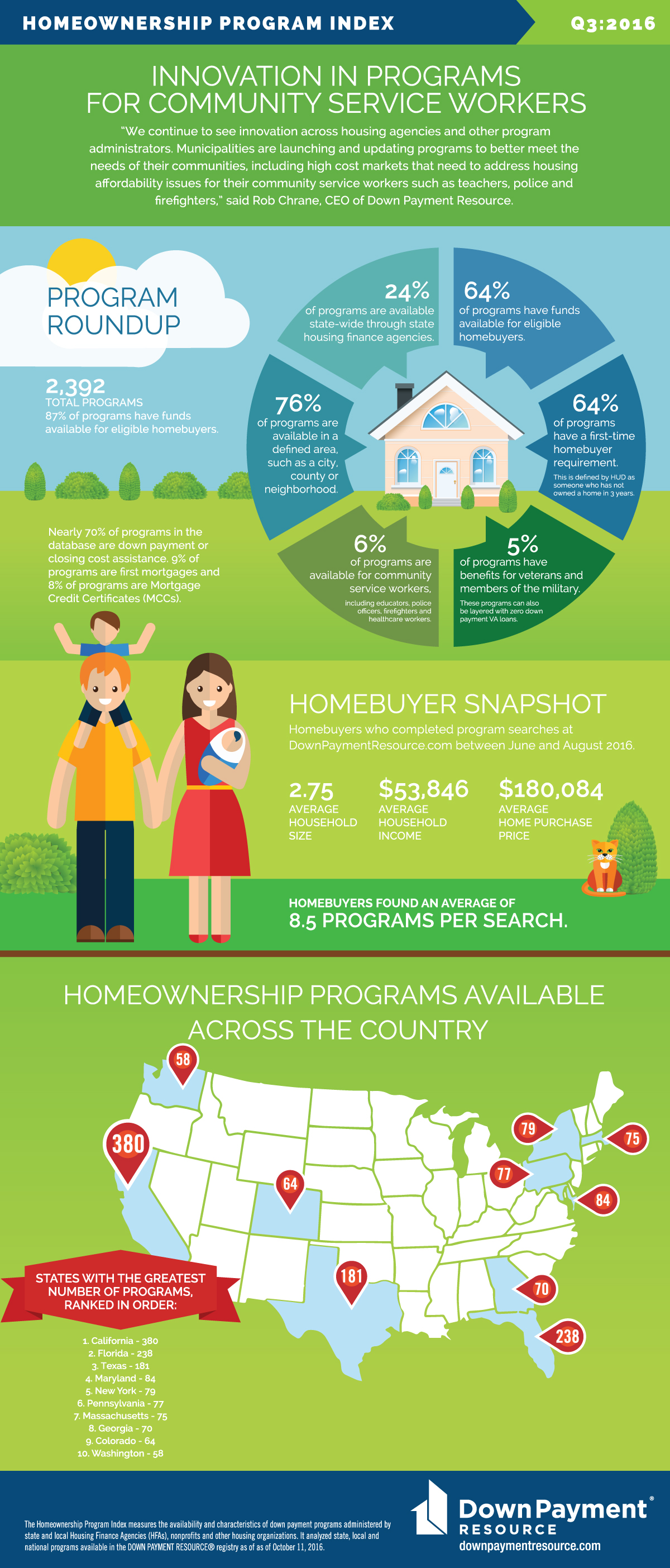 There are also specialty programs for community service workers, educators, veterans, and more. And many of these programs are state-specific. 
FHA Loans
FHA stands for the Federal Housing Administration. These loans have more flexible terms and qualifications for applicants. For example, you can apply with a FICO score as low as 550. However, you'll still need to put 10% as a down payment. 
If your score is 580 and above, you can even qualify for a down payment that is 3.5%. However, all FHA loans call for mortgage insurance. 
VA Loans
Home loans specifically made for veterans, service members, and families of military personnel come with very generous terms. Interest rates are competitive but relatively lower and there's often no down payment or mortgage insurance involved. 
However, most VA-approved lenders do need you to have a credit score of at least 640.   
USDA Home Loans
The U.S. Department of Agriculture has an incentive in helping aspiring homeowners transition to rural and suburban areas. That's why they offer zero-down-payment mortgages for lower income buyers who qualify. 
The catch is that these loans are only available in certain areas but anyone can apply as it's not limited to farmers. You can also apply with a score lower than 640 or with a non-traditional credit history such as utilities or rent payments. 
Conventional Mortgages
Conventional mortgages aren't guaranteed or insured by the federal government. They work like home loans but they allow for down payments as low as 3%. Eligible buyers include first-time and lower-income borrowers. If you do put down a 20% down payment, however, you can avoid mortgage insurance completely. 
What is OHFA Down Payment Assistance in Oklahoma?
In Oklahoma, major state-run down payment assistance programs are run by OHFA, the Oklahoma Housing Finance Agency. OHFA offers the Homebuyer Down Payment Assistance program through approved lenders and products that are designed to reduce the overall costs associated with buying a home in Oklahoma. 
There are quite a few benefits you can take advantage of when using the Down Payment Assistance program. It's designed to be flexible and put ownership of a home in your hands. 
Here's how it works:
The program offers

3.5% of your loan amount applied a down payment required and to closing costs

You can use it to purchase both new and pre-existing homes

Some loan products allow the value of the home up to $453,100

The OHFA Dream Product

purchase price limits for FHA, VA, and RD loans is $331,760 and $453,1000 on a Conventional Mortgage. Minimum credit score is 640.

The OHFA Gold Product

purchase price limits for FHA, VA, USDA RD,

HUD 184

, and Conventional loans go up to $283,348. Minimum credit score is 640

Loans are limited to a 30-year fixed rate mortgage

Available in all 77 counties

No repayment of down payment assistance necessary

You can apply and get assistance whether you're a first-time home buyer or a repeat home buyer
Who is Eligible for OHFA Down Payment Assistance?
There are general qualification and eligibility requirements if you're planning on taking advantage of the OHFA Down Payment Assistance program. 
First off are the requirements around the property:
You need to be purchasing a home in Oklahoma and it needs to be your primary place of residence. This means no income or investment properties qualify. 

You also need to occupy this residence within 60 days of closing 
Secondly, you need to fulfill certain requirements as an applicant:
You must have a credit score of 640 or greater

You must not exceed maximum

household income requirements

for your type of loan, family size, and home location.
Special Rates for Eligible Professionals
There are special rates available for three professional groups in Oklahoma. These rates include an additional reduction on interest rates, which makes your mortgage even more manageable. 
These special terms include:
A reduced interest rate (equal to 0.25% below the GOLD daily posted rate

The complete 3.5% down payment assistance
If you or a member of your family works under one of these professions, your household may be eligible for these special rates. 
Teachers
To qualify as a teacher, you must:
Hold an Oklahoma Teacher's Certificate 

Currently work under contract at any Oklahoma public school district (or private/parochial school)
Keep in mind that the First Time Homebuyer requirement does apply if you buy in certain areas.
Shield
To qualify as an emergency/first responder/law enforcement, you must:
Be currently employed or active in law enforcement, fire service or emergency medical services (police officers, highway patrol officers, sheriffs, volunteer/reserve officers, firefighters, volunteer firefighters, EMT's and Paramedics are eligible)
State Employees
To qualify as a state employee, you must:
Applying is just as simple as the programs themselves. Remember that OHFA is specifically designed to help you, the homeowner out. 
It may seem like a program meant for lower-income households, but sometimes the "obstacle" to home ownership" comes down to an ability to repay.
So while there are certain income thresholds, OHFA also responds to the very real need to reduce your overall mortgage interest rate. In fact, if you have an excellent credit score, you can take advantage of OHFA's total cost-cutting and benefit from a lower interest rate. 
Lower interest rates can keep your monthly payments more than manageable. When you consider the variance between a 12.9% rate and a 3.8% interest rate, that's a significant difference:
To get started, all you need to do is:
Find out

if you qualify for OHFA Down Payment Assistance

Work with a blue ribbon realtor to find the right home 
If you're working with a Blue Ribbon Realtor, you can completely skip the need to approach an OHFA lender. A Blue Ribbon Realtor has the experience, connections, and expertise to process your financing options if you're using OHFA in Oklahoma.
What is a Blue Ribbon Realtor?
To streamline the home searching and buying process, Oklahoma introduced a neat database and training programs for all realtors who want to qualify as a "Blue Ribbon Realtor." 
Every certified Blue Ribbon Realtor must take a specific number of continuing education courses to qualify for this designation. It's a great way for you, the homebuyer, to make sure that your realtor actually knows the OHFA application requirements and process. 
Blue Ribbon Realtors like our team at 580 Realty help you accomplish two goals at once, with no extra costs or added time:
First,

we help you find the right loan program under OHFA, with competitive rates, and low down payments

Second,

we also help you narrow down your dream home search by giving you options for potential properties that fulfill both your personal desires

and

OHFA's requirements on purchase price (and location, in some cases)
Conclusion
No matter where you are on your home ownership journey, your bid to use OHFA's Down Payment Assistance Program is a smart way to materialize your dream. From application to closing, our impeccable team at 580 Realty can help you simplify and de-stress the entire process. 
We're realtors and property specialists that do things a little differently — with innovation, empathy, and honesty. Our goal is to make real estate accessible, affordable, and enjoyable. Contact our team today and learn more about how we've helped hundreds of homeowners find their dream home in the Texoma region.